Let's play.
We're a group of high-schoolers working to provide musical education and instruments to Dallas-area families in financial need.
Our mission is to provide the opportunity to play and experience music for our local community. Based in Plano, TX, north of Dallas, we strive to spread access to music because we believe it is deserved by all.
In May of 2018, we paid a visit to the Wesley Rankin Community Center in Dallas to donate a trumpet to 8-year-old Crystal, fulfilling her most fervent wish. We also found her a teacher; it turned out she was a natural.
Click to watch Crystal's amazing story on YouTube!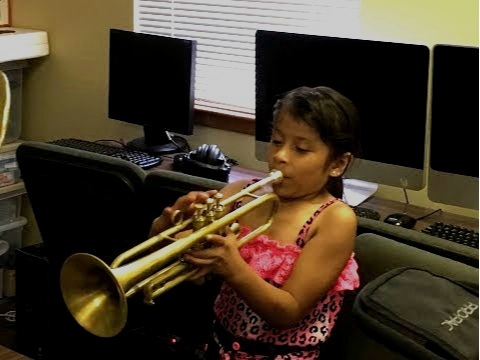 4
Years as a nonprofit
run completely by motivated high-school students and musicians, gaining real-world skills while helping the community
300
combined volunteer hours
dedicated to fundraising, performing, and serving small businesses, families in need, and community centers in the Dallas area
4000
Dollars donated
in equipment to schools and individuals with demonstrated financial need and passion for music